Professional Appliance Repair Services
Georges Services has offered prompt and high-quality appliance repair since 2006, keeping your home up and running at a great price. If you have a broken appliance, call us; once you've tried us, you won't call anyone else.
When you call us, you'll talk to one of our appliance repair technicians directly — never a robot or an answering service. You'll hear directly from someone who knows their stuff and has the skills and experience to answer any questions you have.
Looking for Same-Day Appliance Repair?
Whenever possible, depending on our service technicians' availability, we provide same-day repairs. Keeping your household appliances in good shape is what we do; don't hesitate to give us a call as soon as you need a repair. We'll get to you as quickly as we can.
Appliance Troubleshooting Tips
Sometimes, your appliance issue can be solved with a quick fix without needing to call an appliance repairman. Here, we'll go over a few common appliance problems that you might be able to fix yourself:
Clothes not getting clean? For top-loading washers, ensure that clothes are arranged evenly to prevent balance issues during the wash cycle, and that all water faucets are on and operational. For front-loading washers, clean the door seal frequently to ensure it closes completely.
Clothes not getting dry? Make sure your dryer's rear exhaust vent isn't obstructed. Also make sure that your washer is properly spin-drying your clothes before you put them in the dryer to ensure they dry properly. Clean the lint screen after every load and clean the dryer's ventilation duct every few years.
Fridge not cooling properly? Set it to the next lowest temperature. If it starts up, give it 24 hours to cool and then check the temperature. Also clean the condenser coils on the back or underneath your fridge to ensure they're dust-free. Finally, check that the outlet your fridge is using is working properly.
Dishes not getting clean? Check to make sure the water is hot enough — at least 120 degrees. If not, turn the water temperature up. Make sure to clean out the machine itself every so often as well.
Dishwasher leaking? Make sure that your dishes are loaded correctly, without blocking drains. Run the dishwasher empty; if it doesn't leak, it's likely that the dishes are loaded improperly.
If your issue isn't listed here or these tips don't solve your problem, call our experienced technicians for professional repairs.
High-Quality Home Appliance Repair
Our team has been working on appliances for decades. Each of our appliance repair technicians is extensively trained to work on all major brands of appliances — and less-major ones as well. Whether your appliance is brand-new or decades old, we can help you get it back in good shape.
We work on all types of appliances, from ice makers and garbage disposals to dishwashers and refrigerators and more. No matter what the issue is, we'll always look for the best solution that saves you money and solves your problem. Repair is almost always cheaper than replacement, and we keep that in mind when we work on your appliances. We won't suggest you replace your appliance if there's a cost-effective way to repair it.
Georges Services: Allen TX's First-Choice Appliance Repair Company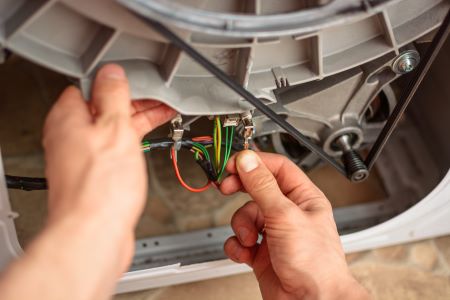 If your fridge isn't cooling properly, your broken dryer doesn't do its job, or for any other major appliance issue, you can count on Georges Services. Our appliance repair experts are on hand to help out with appliance breakdowns right when you need them. We maintain affordable prices, and each of our technicians is extensively trained to look for the solution you need.
Whenever possible, we offer same-day service. If any of your home's appliances are acting up, give us a call. We're sure we'll become your first-choice appliance repair service.
How much does appliance repair typically cost?
The cost of appliance repair can vary widely depending on the type of appliance, the specific problem, and your location.
Is it worth repairing an old appliance, or should I replace it?
Whether you should repair or replace an old appliance depends on several factors, including the age of the appliance, the cost of the repair, and its overall condition. As a general rule, if the repair cost is more than 50% of the appliance's current value or if it's near the end of its expected lifespan, it may be more cost-effective to replace it with a newer, more energy-efficient model.
How can I find a reliable appliance repair service near me?
"To find a reliable appliance repair service, you can:
Ask for recommendations from friends, family, or neighbors.
Check online reviews and ratings for local repair companies.
Verify that the repair technicians are licensed and insured.
Request quotes from multiple repair companies to compare prices and services."
What should I do if my appliance is under warranty and needs repair?
If your appliance is still under warranty, the best course of action is to contact the manufacturer or the retailer where you purchased it. They will typically arrange for authorized service providers to repair your appliance at no cost or a reduced cost, depending on the terms of the warranty. Attempting to repair it yourself or using an unauthorized repair service may void the warranty.
Are there any appliance maintenance tips to prevent common problems?
" Yes, regular maintenance can help extend the life of your appliances and reduce the likelihood of breakdowns. Here are some tips:
Clean or replace filters in appliances like refrigerators and dishwashers.
Keep the appliance's coils and vents free of dust and debris.
Check for loose or worn-out seals on refrigerator and oven doors.
Avoid overloading your appliances, which can strain them.
Schedule professional maintenance for complex appliances like HVAC systems annually."