Georges Services: Plano TX's Best Dishwasher Repair Company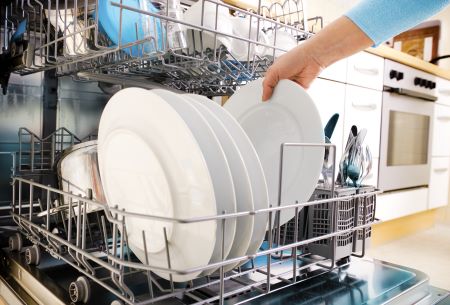 Is your dishwasher acting up? Whether it's leaking, not washing the dishes properly, or any other issue, the team at Georges Services is ready to lend a hand. We have years of experience with all types of appliances, so we're confident we can find the solution you need.
Our team can help with all your kitchen appliances, handling everything from dishwashers to dryer repair — all at competitive prices. If you need dishwasher repair in Plano TX and the surrounding areas, Georges Services is the only team you need to call.
Looking for Professional Dishwasher Repair Services?
You're in the right place. Our appliance repair technicians are the best in the business and have been providing quality repairs at affordable prices for decades. We're always doing all we can to save our clients money. That's why we provide a list of common issues you might be able to solve on your own with simple appliance repair tips.
Dishes aren't getting clean. Make sure the dishwasher is loaded properly, with nothing blocking the dishwasher's spin arms, drains, or jets. Also make sure you're using enough (or not too much) detergent, and that the inside of the dishwasher is clean. Finally, make sure the water is hot enough — at least 120 degrees. If it isn't, turn up the water heater.
The dishwasher is leaking. This is probably an issue with the door seal or the door itself. The simple fix to try is to clean the door seal thoroughly, to make sure nothing is blocking it. If this doesn't stop the leak, give us a call.
The dishwasher makes a lot of noise. This could be as simple as a fork slipping beneath the dish rack or as complex as a faulty internal component. Do a visual check of the inside of your dishwasher, and if you don't see anything, call us.
The dishwasher isn't draining properly. Usually, this means that something is blocking the drain. Check if you can see anything obstructing the drain, and keep the inside of the dishwasher clean.
If these tips don't solve your problem, or it isn't listed here, give us a call. We'll set you up with an appointment and get your broken appliance up and running again as soon as we can.
Your First-Choice Dishwasher Contractor
Wherever possible, we provide same-day service for your major appliances. If our appliance repair experts aren't available same-day, we'll schedule service for the next time that works for you. We know how much of a pain it is when your dirty dishes are piling up, so we'll get to your washing machine repair as soon as possible. We work with your busy schedule to find a time that suits your needs.
We can work on all of your household appliances — not just the ones in your kitchen. We also handle dryer repair, leaky clothes washers, and more.
Are You Looking for "Dishwasher Repair Near Me?"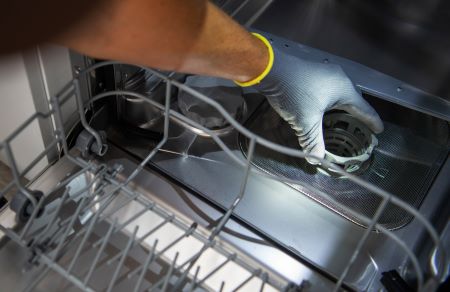 Georges Services is the best team to call when you need appliance repair in Plano TX. We work on all major brands of household appliances and have decades of experience doing so. All of our technicians undergo an extensive training program to make sure we can provide dependable appliance repair every time.
Whether your dishwasher is brand-new or you've had the same one for years, our team can make it work again. To make things a little easier, we offer discounts on our appliance repair services for seniors, firefighters, EMS, police, and veterans. If any of these apply to you, don't hesitate to ask. We also waive the cost of your service call if we make a repair. If your dishwasher or any other appliance is acting up, give us a call today.