Call Us for Oven Repair Services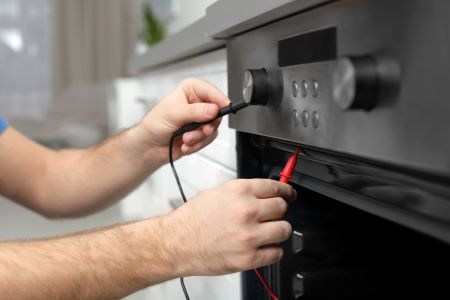 If your oven or stovetop isn't heating properly, Georges Services is the best team to call. Since 2006, we've been helping Plano TX homeowners with all types of major appliances. With decades of experience, a history of quality repairs, and a long list of happy customers to back us up, we're confident we'll become your first-choice appliance repair experts.
For your oven, stovetop, or any other household appliances, count on Georges Services to keep them in good shape. On average, repair prices are lower than the cost of replacing your stove. We'll always find the best, most cost-effective solution for your oven or stove.
Best Oven Repair Company in Plano TX
Our team offers appliance repair services at competitive prices because we want to do all we can to save you money. That's also why we provide a list of common issues and potential quick fixes you can try before you give us a call for oven or stove repair.
Always ensure your appliances are powered off and unplugged before attempting any repair.
Troubleshooting Your Oven
Heating problems are the most common issue that a stove or oven will have. There are a number of causes, but here we'll just address a few you might be able to fix on your own.
Gas stove or oven not lighting. This is most likely an issue with the igniter. It's possible that something is blocking the gas taps. You may be able to solve this issue by simply cleaning them. Make sure the gas is turned off before you work on your stove.
Electric stove not heating. There are a number of things that can go wrong with an electric cooktop, from broken components to loose wires. It can even be as simple as a tripped breaker. Check your breaker, make sure the outlet still works, and keep the stovetop clean.
Electric oven not heating. This is probably either an issue with the element inside the oven or with the power. Check if your breaker has tripped, and if it hasn't, you may need a replacement element.
Your First-Choice Oven Repair Contractor
Whenever we can, our team offers same-day service on your household appliances. If we can't get to you same-day, we'll find the next best appointment time for you. We know exactly how inconvenient it is to deal with a broken appliance, so we do all we can to get to you as soon as possible.
Our team is extensively trained to find the best solution to your appliance issues at the fairest price — and to get the job done quickly and with minimal disruption to your day. With our combination of skill, professionalism, and competitive prices, we're sure that once you've tried us, you won't call anyone else.
Looking for "Oven Repair Near Me?"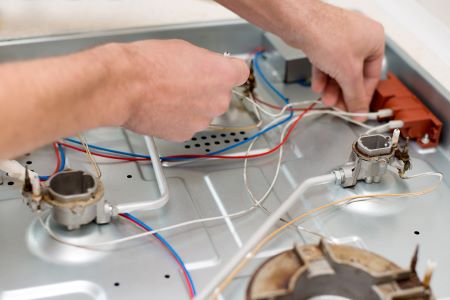 If you're looking for appliance repair in Plano TX (or the surrounding areas,) Georges Services is the only team you need to call. Our appliance repair technicians are trained to work on all major appliances in your home. We work on major brands and less-common ones as well; no matter what brand of stove you have, we can help. On top of that, we also handle all your other kitchen appliances, and washers and dryers as well. So whether your fridge suddenly died on you or your washing machine is leaking, our team is on the job.
To make this process easier for our customers, we offer discounts for veterans, police, EMS, and seniors. We also waive the cost of your service call when we make a repair. We strive to provide affordable appliance repair that you can rely on. Give us a call to schedule service, whether for oven repair or any of our wide range of repair services.