Professional Appliance Repair Services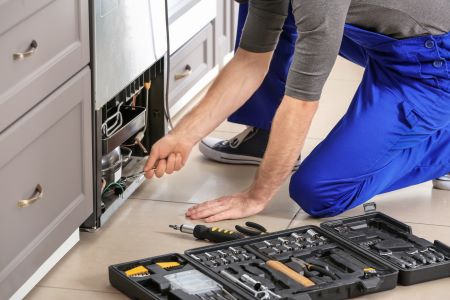 Georges Services has offered prompt and high-quality appliance repair since 2006, keeping your home up and running at a great price. If you have a broken appliance, call us; once you've tried us, you won't call anyone else.
When you call us, you'll talk to one of our appliance repair technicians directly — never a robot or an answering service. You'll hear directly from someone who knows their stuff and has the skills and experience to answer any questions you have.
Looking for Same-Day Appliance Repair?
Whenever possible, depending on our service technicians' availability, we provide same-day repairs. Keeping your household appliances in good shape is what we do; don't hesitate to give us a call as soon as you need a repair. We'll get to you as quickly as we can.
Appliance Troubleshooting Tips
Sometimes, your appliance issue can be solved with a quick fix without needing to call an appliance repairman. Here, we'll go over a few common appliance problems that you might be able to fix yourself:
Clothes not getting clean? For top-loading washers, ensure that clothes are arranged evenly to prevent balance issues during the wash cycle, and that all water faucets are on and operational. For front-loading washers, clean the door seal frequently to ensure it closes completely.
Clothes not getting dry? Make sure your dryer's rear exhaust vent isn't obstructed. Also make sure that your washer is properly spin-drying your clothes before you put them in the dryer to ensure they dry properly. Clean the lint screen after every load and clean the dryer's ventilation duct every few years.
Fridge not cooling properly? Set it to the next lowest temperature. If it starts up, give it 24 hours to cool and then check the temperature. Also clean the condenser coils on the back or underneath your fridge to ensure they're dust-free. Finally, check that the outlet your fridge is using is working properly.
Dishes not getting clean? Check to make sure the water is hot enough — at least 120 degrees. If not, turn the water temperature up. Make sure to clean out the machine itself every so often as well.
Dishwasher leaking? Make sure that your dishes are loaded correctly, without blocking drains. Run the dishwasher empty; if it doesn't leak, it's likely that the dishes are loaded improperly.
If your issue isn't listed here or these tips don't solve your problem, call our experienced technicians for professional repairs.
High-Quality Home Appliance Repair
Our team has been working on appliances for decades. Each of our appliance repair technicians is extensively trained to work on all major brands of appliances — and less-major ones as well. Whether your appliance is brand-new or decades old, we can help you get it back in good shape.
We work on all types of appliances, from ice makers and garbage disposals to dishwashers and refrigerators and more. No matter what the issue is, we'll always look for the best solution that saves you money and solves your problem. Repair is almost always cheaper than replacement, and we keep that in mind when we work on your appliances. We won't suggest you replace your appliance if there's a cost-effective way to repair it.
Georges Services: Frisco TX's First-Choice Appliance Repair Company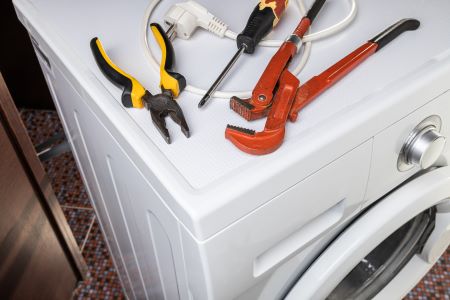 If your fridge isn't cooling properly, your broken dryer doesn't do its job, or for any other major appliance issue, you can count on Georges Services. Our appliance repair experts are on hand to help out with appliance breakdowns right when you need them. We maintain affordable prices, and each of our technicians is extensively trained to look for the solution you need.
Whenever possible, we offer same-day service. If any of your home's appliances are acting up, give us a call. We're sure we'll become your first-choice appliance repair service.
My appliance is not working properly. What should I check before calling a repair technician?
Before contacting a repair technician, you can perform some basic troubleshooting steps. Check if the appliance is plugged in, the circuit breaker hasn't tripped, and the appliance's settings are correct. Refer to the user manual for troubleshooting tips specific to your appliance. If these steps don't resolve the issue, it's time to call a professional.
Can I attempt to repair my appliance myself to save money?
While some minor appliance issues can be fixed by DIY enthusiasts, it's important to consider your skill level and the complexity of the repair. Attempting complex repairs without the necessary knowledge and tools can be dangerous and may void warranties. It's generally safer to hire a qualified technician for appliance repairs, especially for major issues.
How long does it typically take to repair an appliance?
The repair time can vary depending on the type of appliance, the nature of the problem, and the availability of replacement parts. In many cases, a technician can diagnose and repair the appliance in a single visit. However, for more complex issues or if specific parts need to be ordered, it may take several days to complete the repair.
What should I do if I suspect a gas appliance is leaking or malfunctioning?
If you suspect a gas appliance is leaking or malfunctioning, it's crucial to prioritize safety. First, turn off the gas supply to the appliance if possible. Open windows and doors to ventilate the area, and do not use any open flames or electrical switches. Leave your home and call your gas utility provider and a professional appliance repair service immediately. Gas leaks can be hazardous and require prompt attention.
Are there any warning signs that my appliance may be on the verge of a breakdown?
A remodeler is a professional contractor who specializes in renovating and improving residential or commercial spaces. They handle everything from design and planning to execution and completion of remodeling projects.