Need Dryer Repair Services?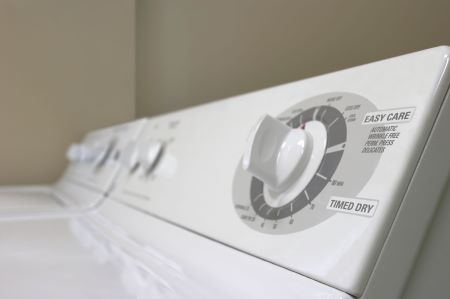 For appliance repair services at competitive prices, Georges Services is the best team to call. If your washing machine or dryer isn't working, you need efficient repairs as soon as possible. That's exactly what our team provides every single day.
Our team is in the business of helping homeowners in Frisco TX (and the surrounding areas) save money. The average cost of repairing your dryer is much lower than replacing the unit entirely, so always call our appliance repair experts to see if there's anything we can do before you resort to buying a new one.
Georges Services: The Best Dryer Repair Company in Frisco TX
Before you make an appliance repair appointment, there are a few simple fixes you can try. Below, we'll list a few common dryer problems and things you can try yourself before you call our appliance repair experts.
Troubleshooting Your Clothes Dryer
Georges Services always strives to save you money. That's why we advise you to check for a simple fix before you call our appliance repairmen; if it's a common problem with a simple solution, you might be able to save time and money by fixing it yourself.
Clothes aren't drying. There are a number of reasons this can happen. Some of them are simple, others not so much. For starters, make sure you clean your dryer's lint filter after each load. Make sure the washer is properly spin-drying the clothes too, so the dryer doesn't have to work too hard to dry them.
Dryer isn't heating properly. This could be anything from a power supply issue that you can fix by resetting your breaker to a damaged part you'll need to replace. If you think it's an electrical issue, don't try to fix it yourself; call us for appliance repair services instead.
Dryer isn't starting. First of all, make sure the dryer is plugged in. It's also a good idea to make sure the plug is functioning properly, and checking whether the breaker is tripped. Make sure the door is closed all the way when you start the load.
Professional Dryer Repair and Maintenance
Whenever possible, we provide same-day appointments to help you out as soon as we can. If we can't get one of our appliance technicians to you same-day, we'll schedule service for you in our next available slot.
Our team works on all types of appliances. No matter which broken appliance is throwing a wrench in your daily routine, our team has you covered. We work on all major brands — and less-major ones as well. Our appliance repair technicians can help whether your dryer isn't starting, your washer isn't washing, or your refrigerator is leaking.
Looking for "Dryer Repair Near Me?"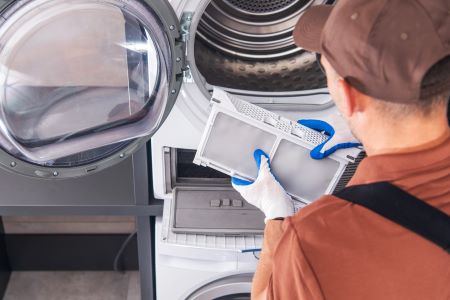 Your search is over. The team at Georges Services is the best one to call when your clothes dryer isn't working properly. We have decades of experience in clothes dryer repair — and all other major household appliances as well. If you need appliance repair in Frisco TX, count on the prompt service and skilled technicians from Georges Services. We provide exceptional service at affordable prices.
Once you've tried us, you won't call anyone else. Our appliance repair pros are extensively trained to work on all major appliance brands and find the most cost-effective solution to a wide range of appliance issues. Give us a call today and let us show you why we're Frisco TX's go-to appliance repair company.