Georges Services: Local Washer Machine Repair Services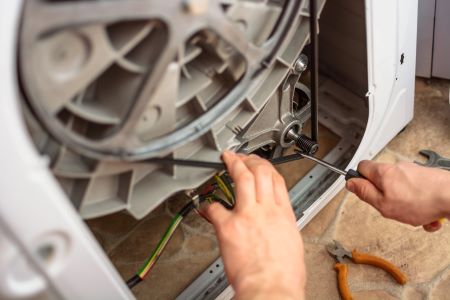 Sooner or later, every clothes washer will need a repair. Whether it's leaking, not finishing the washing cycle, or making a weird new clunking noise, don't jump to replacing the entire unit; call Georges Services first. On average, the cost of appliance repair is almost always cheaper than a whole new washer, so make sure you call our appliance repair technicians before you start shopping around.
We work on all major brands of washers, including Whirlpool, Maytag, Speed Queen, and more. Whether your washer is brand-new or you've had it for years, our team can find a solution that works for you.
Looking for Prompt Washer Repair?
You have a busy schedule and no time to worry about your broken washing machine. Georges Services offers same-day service (depending on the availability of our technicians.) Otherwise, we'll schedule service for you as soon as we can.
Common Washer Issues
Dealing with any of these common issues? There may be a simple fix you can try. Check out our list of troubleshooting tips to try out. If these don't work, our appliance repair professionals can give you a hand.
Clunking sound in washer or dryer. First of all, check to make sure you didn't leave anything in your pockets. Look at the drum itself to see if anything is trapped inside.
Stopping mid-cycle. If your washer stops before the spin cycle, it may be a simple case of an unbalanced or oversized load. Try smaller loads distributed evenly throughout the drum.
Leaks. Leaks have a number of causes, some of them easy to resolve, others not so much. If your front-loading washer is leaking from the door, it's probably a problem with the door seal. Check for any blockages and clean the seal thoroughly to rule out a simple fix.
If these solutions don't help, call the appliance repair experts at Georges Services. We'll be there to help as soon as we can.
Free Service Call With Washer Repair Services
If you're dealing with a broken appliance, you want a quick and easy solution that won't break the bank. That's why our team offers to waive the cost of your service call if we make a repair. Combined with our high-quality repairs and affordable rates, we're certain we'll become your preferred appliance repair company. Once you call us, you won't try anyone else.
We work on kitchen appliances as well! If your refrigerator isn't working or you need dishwasher repair, we can help. Our experienced repairmen can handle every major appliance repair you need. From common repairs to more complicated problems, our team will help you find the best solution.
Looking for "Washing Machine Repair Near Me?"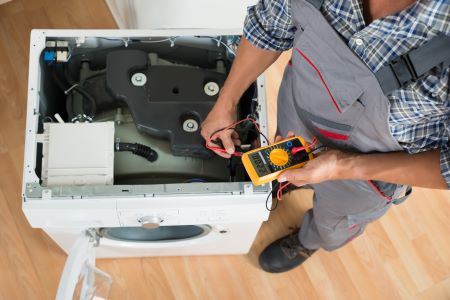 If your washing machine (or any other household appliance) isn't working like it should, call Georges Services. We take appliance repair seriously, and each of our knowledgeable repair professionals undergoes an extensive training program to ensure they know how to help in a wide range of situations.
We offer discounts to veterans, EMS, police, firefighters, and seniors. If any of these apply to you, show your ID for a discounted rate on your repair. If you need appliance repair services in Plano TX, count on the team at Georges Services for prompt, reliable repairs at an affordable price. Give us a call today!